𝖂𝖊 𝗮𝗿𝗲 𝗲𝘅𝗰𝗶𝘁𝗲𝗱 𝘁𝗼 𝗮𝗻𝗻𝗼𝘂𝗻𝗰𝗲 𝘁𝗵𝗮𝘁 𝗦𝗶𝗻𝗰𝗹𝗮𝗶𝗿 𝗠𝗲𝗮𝘁𝘀 𝗠𝗮𝗰𝗸𝗮𝘆 𝗮𝗻𝗱 𝗠𝗲𝗴𝗮 𝗠𝗲𝗮𝘁𝘀 𝘄𝗶𝗹𝗹 𝗯𝗲 𝗺𝗼𝘃𝗶𝗻𝗴 𝗶𝗻 𝘁𝗼𝗴𝗲𝘁𝗵𝗲𝗿.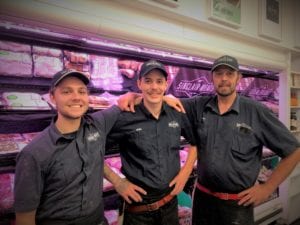 Scotty will be reunited with Noel at Mt Pleasant from Monday 28th June creating the best retail service for our customers.
We also bring with us the ease of using our online shopping platform
'𝐂𝐥𝐢𝐜𝐤 & 𝐂𝐨𝐥𝐥𝐞𝐜𝐭' 𝐨𝐫 '𝐂𝐥𝐢𝐜𝐤 & 𝐃𝐞𝐥𝐢𝐯𝐞𝐫'
Expanding our Delivery service to customers in Mackay and surrounds including west to Moranbah, south to Sarina and north to Airlie Beach.
"𝘛𝘰 𝘢𝘭𝘭 𝘮𝘺 𝘸𝘰𝘯𝘥𝘦𝘳𝘧𝘶𝘭 𝘭𝘰𝘺𝘢𝘭 𝘤𝘶𝘴𝘵𝘰𝘮𝘦𝘳𝘴, 𝘦𝘢𝘤𝘩 𝘰𝘯𝘦 𝘰𝘧 𝘺𝘰𝘶 𝘩𝘢𝘷𝘦 𝘣𝘦𝘦𝘯 𝘢 𝘱𝘢𝘳𝘵 𝘰𝘧 𝘮𝘺 𝘭𝘪𝘧𝘦, 𝘸𝘦 𝘩𝘢𝘷𝘦 𝘴𝘦𝘦𝘯 𝘵𝘩𝘦 𝘶𝘱𝘴 𝘢𝘯𝘥 𝘥𝘰𝘸𝘯𝘴 𝘵𝘰𝘨𝘦𝘵𝘩𝘦𝘳 𝘣𝘶𝘵 𝘤𝘰𝘶𝘭𝘥 𝘢𝘭𝘸𝘢𝘺𝘴 𝘴𝘩𝘢𝘳𝘦 𝘢 𝘭𝘢𝘶𝘨𝘩!
𝘐 𝘫𝘶𝘴𝘵 𝘸𝘢𝘯𝘵 𝘵𝘰 𝘴𝘢𝘺 𝘢 𝘏𝘜𝘎𝘌 𝘵𝘩𝘢𝘯𝘬 𝘺𝘰𝘶 𝘵𝘰 𝘺𝘰𝘶 𝘢𝘭𝘭! 𝘊𝘰𝘮𝘦 𝘴𝘢𝘺 𝘎𝘥𝘢𝘺 𝘢𝘵 𝘚𝘪𝘯𝘤𝘭𝘢𝘪𝘳 𝘔𝘦𝘢𝘵𝘴 𝘔𝘵 𝘗𝘭𝘦𝘢𝘴𝘢𝘯𝘵 𝘢𝘯𝘥 𝘺𝘰𝘶 𝘸𝘪𝘭𝘭 𝘴𝘵𝘪𝘭𝘭 𝘨𝘦𝘵 𝘵𝘩𝘢𝘵 𝘚𝘤𝘰𝘵𝘵𝘺 𝘭𝘰𝘷𝘦 & 𝘦𝘹𝘱𝘦𝘳𝘵𝘪𝘴𝘦 𝘸𝘩𝘦𝘯 𝘺𝘰𝘶 𝘱𝘶𝘳𝘤𝘩𝘢𝘴𝘦 𝘺𝘰𝘶𝘳 𝘮𝘦𝘢𝘵.
𝘊𝘩𝘦𝘦𝘳𝘴 𝘚𝘤𝘰𝘵𝘵𝘺"
𝗗𝗶𝗿𝗲𝗰𝘁 𝗳𝗿𝗼𝗺 𝗼𝘂𝗿 𝗽𝗮𝗱𝗱𝗼𝗰𝗸𝘀, 𝗿𝗲𝗮𝗱𝘆 𝗳𝗼𝗿 𝘆𝗼𝘂𝗿 𝗽𝗹𝗮𝘁𝗲, 𝗶𝘀 𝘄𝗵𝗮𝘁 𝗺𝗮𝗸𝗲𝘀 𝗦𝗶𝗻𝗰𝗹𝗮𝗶𝗿 𝗠𝗲𝗮𝘁𝘀 𝘁𝗵𝗲 𝗿𝗲𝗮𝗹 𝗱𝗲𝗮𝗹.